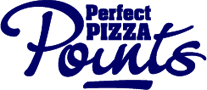 Start collecting for free pizza!
Do you love pizza? What would make you love it even more?? How about if we started giving you FREE PIZZA - just for doing what you already do?! Well... YOU GOT IT!
Loads of you love using our loyalty card, so we thought it was time to let you use it online too. That's why we've launched Perfect Pizza Points.
Here's how to start collecting Perfect Pizza Points for free pizza...
Not got an account?
Create an account before you purchase - that's all you need to do!
Already got an account?
Just sign in before you purchase. You'll be asked to choose your local store and tick a box. And that's it!
How Perfect Pizza Points works
To collect Perfect Pizza Points you need a Perfect Pizza account
You must choose which Perfect Pizza store you are going to collect and spend your points at and also tick the box that says 'Yes, I want to collect Perfect Pizza Points and agree to the terms and conditions'
To collect Perfect Pizza Points, please remember to sign into your account before you order
You will automatically collect 1 Perfect Pizza Point for each online order over £9.99 from your chosen store
Once you have signed into your account, you can see how many Perfect Pizza Points you currently have at the top right hand corner of the screen
Once you have collected 6 Perfect Pizza Points you can spend them on a FREE PIZZA
The FREE PIZZA is any medium pizza excluding create your own. Additional charges may apply for deep pan and stuffed crust.
You can only order 1 FREE PIZZA at a time
You can choose to collect your FREE PIZZA with no further purchase necessary
You can choose to have your FREE PIZZA delivered with any order of £9.99 or more
Terms and conditions
Perfect Pizza Points are also referred to as 'points'
Customers must register online at www.perfectpizza.co.uk to collect Perfect Pizza Points
Points are only awarded to customers who have registered to collect Perfect Pizza Points
Each order over £9.99 including a 9" pizza qualifies for one point
Only one point will be awarded per individual order
Points are collected electronically - no points will be awarded offline for online purchases
Orders placed prior to registering for Perfect Pizza Points will not receive 'points'
Once the customer has collected 6 points they can claim a FREE Medium Pizza
Cheese crust costs extra and can only be purchased directly with the store
The FREE Medium Pizza can only be claimed online
Upon ordering the FREE Medium Pizza, 6 points will be deducted from the customer's points balance
The FREE Medium Pizza can be collected FREE
If the customer wishes to have the FREE Medium Pizza delivered, they will be required to make the minimum standard order of £9.99, including a 9" pizza
There is no requirement to redeem Perfect Pizza Points when the balance reaches 6 points
There is no limit to the number of points that can be collected
Only one FREE Medium Pizza can be redeemed at one time, even if the customer has enough points for 2 or more FREE Medium Pizzas
Periodically, points may be awarded to customers for taking part in additional Perfect Pizza marketing activities and promotions, these may be communicated to customers via email, Facebook or Twitter
Perfect Pizza Points are available to collect from certain stores only
Perfect Pizza Points are not transferable between stores
At the time of registering for Perfect Pizza Points, the customer must select their 'chosen store' from which they will collect and spend their Perfect Pizza Points
Perfect Pizza Points may not be collected or spent (redeemed) from any store other than the customer's chosen store
Orders may still be placed at any Perfect Pizza store, but only those orders placed at the customer's chosen store will qualify for Perfect Pizza Points
Should the customer change their chosen store at any time, the Perfect Pizza Points will be reset to zero and any points previously collected will be lost
The FREE Medium Pizza can only be claimed during the opening hours of the customer's chosen store
Perfect Pizza Points have no cash value and cannot be exchanged for cash
Individual stores reserve the right to withdraw from the Perfect Pizza Points scheme at any time
Perfect Pizza Points collected from a store that withdraws from the Perfect Pizza Points scheme will be lost
Perfect Pizza reserves the right to withdraw the Perfect Pizza Points scheme at any time and without compensation for lost points
Perfect Pizza reserves the right to withdraw points if awarded in error or acquired through false or fraudulent means
Perfect Pizza Points is run by the promoter, The Perfect Pizza Company Ltd. Registered in England. Company registration no. 07714401 Registered office: Sterling Hay Suite, 100 Pall Mall, London SW1Y 5HP